Replenishing a product is adding quantities to an MSKU that's already listed in your existing inventory.  A replenish-able item is a great thing to have in your inventory, especially if you're replenishing a profitable item because it's selling.  These items tend to have one MSKU with several quantities such as toys, grocery, shoes, etc.
Here's how to do this with ScanLister.
1.  Go to Settings – Options.  Then check the "Replenishment" box.  The first time you use this feature, you will need to wait at least one hour for ScanLister to download your existing inventory to our system.  You will only need to do this once.

2.  Go to Settings – Amazon Fulfilled Options.  Then check "Scan and Label Mode".  This will enable you to replenish the product immediately after scanning into ScanLister.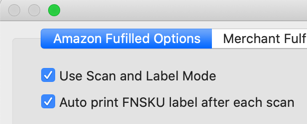 3.  Watch the video below for a full explanation.